Our Pool Light Installation Services Brighten Up Your Phoenix Home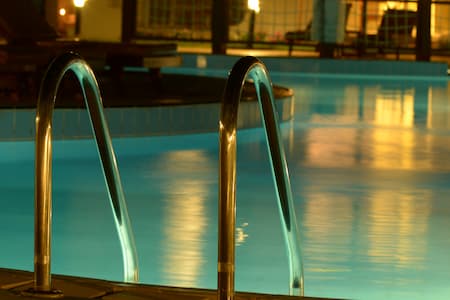 In the sun-soaked oasis of Phoenix, where swimming pools are an integral part of the lifestyle, our pool light installation services at Phoenix Electricians Today are designed to transform your outdoor space into a captivating nighttime retreat. Phoenix's warm evenings are the perfect backdrop for enjoying your pool, and adding well-placed pool lights can create a magical ambiance. Our skilled electricians have the expertise to install pool lights with precision, ensuring both safety and aesthetics. Whether you prefer the classic glow of incandescent lights or the energy efficiency and color options of LED pool lighting, we have the solutions to match your preferences.
Beyond aesthetics, our pool light installations offer practical benefits as well. Adequate lighting enhances safety by illuminating the pool area, reducing the risk of accidents and providing clear visibility for nighttime swimming. It also extends your poolside enjoyment into the evening hours, allowing you to entertain guests, relax, and create memorable moments in the comfort of your own backyard. With Phoenix Electricians Today, you can brighten up your Phoenix home, making it a captivating and inviting space for both relaxation and entertainment.
Partner with the top electrician for Phoenix services for safety and efficiency. Give Phoenix Electricians Today a call for pool light installation in Phoenix.
Installing New Pool Lights
Enhance the allure of your pool and extend your outdoor enjoyment into the evening hours with our expert pool light installation services. At Phoenix Electricians Today, we understand that pool lights are not just about aesthetics; they also play a crucial role in safety and functionality. Whether you're looking to upgrade to energy-efficient LED lighting, add colorful accents, or simply replace old and worn-out pool lights, our skilled electricians have the knowledge and experience to make your vision a reality. Our meticulous installation process ensures that your pool lights are not only visually appealing but also provide the necessary illumination for safe and enjoyable nighttime swimming. Trust Phoenix Electricians Today to transform your Phoenix pool area into a captivating and well-lit retreat that you and your guests will love.
Illuminate Your Pool with Confidence: Pool Light Installation by Phoenix Electricians Today
When it comes to pool light installation in Phoenix, choosing the best local electrician ensures a seamless and worry-free experience. Phoenix Electricians Today offers the expertise and reliability you need to create an enchanting poolside ambiance. Our skilled professionals understand the unique requirements of pool lighting, from energy-efficient LED solutions to precise placement for safety and aesthetics. We prioritize both functionality and aesthetics, ensuring that your pool lights not only enhance your outdoor space's beauty but also provide essential illumination for nighttime swimming. Trust the best local electrician in Phoenix for pool light installation, and let us transform your pool area into a captivating oasis that adds both value and allure to your home.
Frequently Asked Pool Light Installation Questions
LED pool lights offer several advantages, including energy efficiency, longer lifespan, and a wide range of color options. They consume significantly less electricity, reducing operational costs, and can last up to 25 times longer than incandescent bulbs. LED lights are also versatile, allowing you to customize the ambiance by choosing from various color options, making them a popular choice for pool lighting.
Pool light installation can be done in both existing pools and during construction or renovation. The choice depends on your specific circumstances and preferences. While it's generally more straightforward to install pool lights during construction or renovation when the pool is empty, experienced electricians can safely install lights in an existing pool with minimal disruption.
Pool lights typically require minimal maintenance. However, they should be inspected periodically to ensure they are functioning correctly and to address any issues promptly. Regular cleaning and checking for loose connections are essential. If you notice flickering or dimming lights, it's advisable to have a professional electrician, like those at Phoenix Electricians Today, inspect and service the lights to prevent further problems and maintain safety and functionality.