Professional Ceiling Fan Installation To Upgrade Your Phoenix Home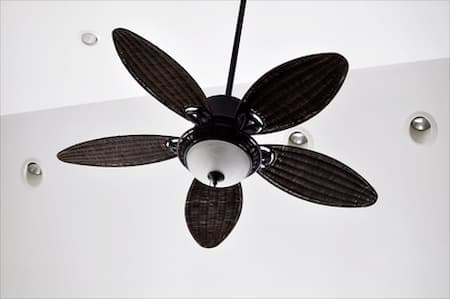 Elevate the comfort and aesthetics of your Phoenix home by choosing Phoenix Electricians Today for professional ceiling fan installation. We understand that ceiling fans are more than just functional; they are essential for maintaining a pleasant indoor environment in the Arizona heat. Our skilled electricians have a wealth of experience in installing ceiling fans of all types and sizes, ensuring that your installation is not only seamless but also perfectly tailored to your home's decor and layout. Whether you're looking to replace an old fan or add a new one to enhance airflow and energy efficiency, we've got you covered.
At Phoenix Electricians Today, we prioritize your satisfaction and safety. Our team follows industry best practices, ensuring that your ceiling fan installation is not only aesthetically pleasing but also electrically sound. We take care of every detail, from securely mounting the fan to proper wiring and control setup, leaving you with a perfectly functioning and stylish addition to your home. Beat the Phoenix heat with a professionally installed ceiling fan from Phoenix Electricians Today and enjoy improved comfort and energy savings while enhancing the overall ambiance of your living space.
Give Phoenix Electricians Today a call for ceiling fan installation in Phoenix. We're the preferred electrician for Phoenix area jobs and we'll show firsthand you how we earned our impeccable reputation.
Installing New Ceiling Fans
When it's time to enhance your home's comfort with new ceiling fans, turn to the same trusted experts you rely on for breaker replacement – Phoenix Electricians Today. Our commitment to safety, precision, and excellence extends to every aspect of your electrical needs. Our experienced electricians not only excel at breaker replacement but also specialize in seamlessly installing new ceiling fans. With our meticulous approach, we ensure that the fans are securely mounted, properly wired, and synchronized with your home's electrical system. By choosing Phoenix Electricians Today, you can enjoy the peace of mind that comes with working with professionals who prioritize both safety and comfort, providing you with a cooling solution that complements the reliability of your electrical system.
Beat the Heat with Confidence: Call Us for Ceiling Fan Installation
When it's time to escape the scorching Phoenix heat and enhance your home's comfort, there's no better choice than Phoenix Electricians Today for ceiling fan installation. Our skilled electricians combine expertise and precision to ensure a seamless installation process that not only cools your space but also adds a touch of elegance to your decor. From secure mounting to expert wiring and control setup, we take care of every detail, guaranteeing that your ceiling fans are not only functional but also safe and stylish. Trust us to keep you cool, and let the professionals at Phoenix Electricians Today provide you with a breeze of comfort and relaxation in the desert heat.
Frequently Asked Ceiling Fan Installation Questions
The size of the ceiling fan you should install depends on the room's square footage. Generally, larger rooms require larger fans with longer blades to ensure adequate air circulation. Our experts at Phoenix Electricians Today can help you determine the appropriate fan size based on your room's dimensions to ensure optimal cooling efficiency and comfort.
It's essential to have a proper electrical box to support the weight and stability of a ceiling fan. If there's no existing electrical box, our electricians can safely install one for you. We'll ensure it meets all safety standards and codes to provide a secure and stable mounting point for your fan.
Yes, there are energy-efficient ceiling fan models that can help reduce your energy consumption and lower utility bills. Look for fans with the ENERGY STAR label, which indicates they meet stringent efficiency guidelines. Additionally, some fans come with built-in LED lighting, further enhancing energy savings. Our team at Phoenix Electricians Today can recommend energy-efficient ceiling fan options that suit your needs and budget, providing you with both comfort and cost savings.